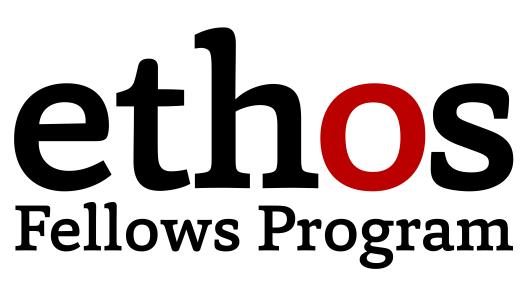 Nominations are open for the Spring 2024 ETHOS Fellows Program!
---
The ETHOS Fellows Program is a 6-session certificate program that:
Introduces faculty, staff, and graduate students to Ohio State's new Shared Values
Invites discussion of the values and their application in fellows' work
Empowers participants to develop values-based events or projects in their home units
Participants are encouraged to pursue values-based efforts in their colleges, departments, or other units, by hosting discussions, events, or other projects. Completion of the program will result in a $500 project fund, consultation from CEHV to initiate efforts, and ongoing collaboration among fellows facilitated by CEHV.
We encourage units to nominate and sponsor ETHOS Fellows (see more details below), but also accept a limited number of individual self-nominations.
---
WHO:
The ETHOS Fellows Program is open to faculty, staff, and graduate students interested in advancing values-based decisioning-making in their units or organizations. Sessions will be led by CEHV Associate Director Aaron Yarmel.
You can view our past ETHOS Fellows here.
WHEN:
The Spring Semester 2024 ETHOS Fellows Program consists of six mandatory sessions to be held online via Zoom. These sessions will take place from 12:00 PM - 1:00 PM on the following dates: 1/22, 1/24, 1/29, 1/31, 2/5, and 2/7.
SESSION TOPICS:
Excellence and Impact: Demonstrating leadership in pursuit of our vision and mission
Diversity and Innovation: Welcoming differences and making connections among people and ideas
Inclusion and Equity: Upholding equal rights and advancing institutional fairness
Care and Compassion: Attending to the well-being of individuals and communities
Integrity and Respect: Acting responsibly and being accountable
Project discussion and next steps
Ohio State's Shared Values framework can be found here.
COMPLETION REQUIREMENTS:
Participants must attend all sessions, barring some exceptional circumstance. Completion will result in a commitment of a $500 project fund by their nominating unit or CEHV to support an event or project. Click here for examples of ETHOS Fellows' projects.
HOW TO APPLY:
If you would like to sponsor an employee or graduate student in your unit to participate in the Spring 2024 ETHOS Fellows Program, please use:
If you are applying as an individual to participate in the Spring 2024 ETHOS Fellows Program, please use:
Deadline: December 8, 2024.
The ETHOS Fellows Program is part of the Center for Ethics and Human Values' development of the research, teaching & learning, and other academic elements of the Shared Values Initiative at The Ohio State University. If you have further questions, please contact CEHV Associate Director Aaron Yarmel, yarmel.2@osu.edu.
Selected ETHOS Fellows' Comments on the Program
 
The open discussions with professionals from across the university gave me insight into the many ways these critical topics can be approached. I've only been at Ohio State for four years, but I've never had the opportunity to connect with so many thoughtful individuals who normally wouldn't occupy the same space. Especially during the pandemic when it's easy to feel isolated, it was invigorating to take time to connect with folks from across the university who are committed to growing a culture of respect and accountability here at Ohio State. Kudos to Piers and Lavender for serving as fantastic facilitators. I've grown not only as a professional, but also as a person.
***
The most important aspect of the program was having dedicated time and space to openly discuss our values and feelings about them with peers of all levels from across the university.
***
Although I had been thinking about these concepts for a long time, the ideas had become stale due to overuse. Piers' short and clear explanations helped to bring each concept into sharp focus, and critically, put each value into dialogue with each of the other values.
***
The open-forum discussions were the most valuable part of this program. I feel like I learned and listened a lot to how we live out our values in ways I was not aware of before. Having individuals from so many units with such vast experiences fostered such powerful discussions that were open, honest and vulnerable both from an individual perspective and from their knowledge of the university. It was a very unique space that I felt grateful to be part of. It really showed me how much work is to be done to improve living our values out as a university, and it helped me figure out areas where my own department can improve that.