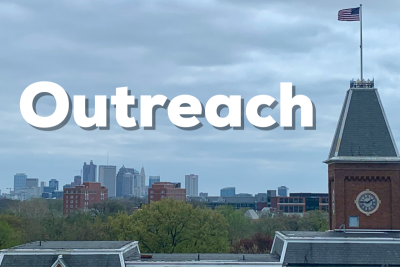 Since 2019, CEHV has been developing its outreach efforts beyond campus. Notable projects and partnerships include:
Cuyahoga Community College (Tri-C) Collaboration

Since 2000, CEHV has partnered with the Jack, Joseph and Morton Mandel Humanities Center at Cuyahoga Community College (Tri-C) on a series of webinars on racial justice. The five webinars so far have drawn a total live audience of over 2600 attendees.
 
Lecture & Discussion Series, Olentangy School District

In Autumn 2019, CEHV began working with Olentangy Berlin High School teacher Mr. Tyson Porter to help create "a place to think deeply, engage meaningfully, and grow intellectually" through ongoing contact and support for club discussions and regular lectures. This past year saw talks by philosophers Lisa Shabel, Amy Shuster, Justin D'Arms, Robert Kraut, and Piers Turner.
 
Faith and Society Series

In the 2020-2021 academic year, CEHV initiated a series of public events featuring contributions from local faith leaders on topics of social and ethical importance, including Liberalism, Conservatism, and Social Catholicism for the 21st Century? and From Chaos to Community: Faith and Racial Justice.

If you are a teacher or member of a community group that would like to partner with our Center in some way, do not hesitate to contact our Director, Piers Turner.