Image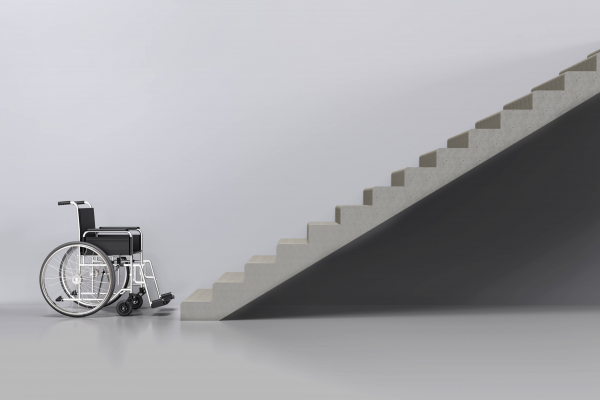 April 9, 2019
3:15PM - 5:00PM
Location
Blackwell Inn and PFHAL Conference Center
Date Range
Add to Calendar
2019-04-09 14:15:00
2019-04-09 16:00:00
Broadening Our Digital World: Balancing Inclusion and Innovation
Whether at school, work, or play we are spending time in the digital world. Websites, apps, and social media have become an integral part of our culture. Nevertheless, for people with disabilities, it can be difficult, sometimes impossible, to obtain independent, timely, and seamless access to this digital world. What would it take to improve access for those who are currently excluded?  Universal Design offers a set of principles for equity but not a blueprint for building our digital world.  Standards, like the Web Content Accessibility Guidelines (WCAG), provides landmarks but they are neither a map or an operational plan for getting there. • What does access and inclusion mean in the digital world? • Why is access important? • Is there a business case for digital access? • Where do we find the resources for access? • How do we get there? • Who is responsible? Join Eve Hill, Co-Lead for Inclusivity and Tom Sikora, Director of Accessibility at Workday, for a dialogue exploring the meaning and value of digital inclusion as well as the pragmatics of how to move toward that goal. A moderated discussion and audience questions will identify the parameters for a thoughtful, balanced, sustainable approach; describe the commitment and the resources necessary to ensure seamless access; and begin to answer the question, How do we get there? This year's Ethel Louise Armstrong Lecture is part of the 2018-2019 COMPAS series focusing on Technology.  The series hopes to promote sustained reflection on the ethical challenges that unify various projects within Ohio State's Discovery Themes Initiative providing a model of informed and constructive discussion that is too often absent from public discourse and that universities are in a unique position to promote. Presenters Eve Hill, one of the nation's leading disability and civil rights attorneys, co-leads Inclusivity. She previously served as Deputy Assistant Attorney General of the U.S. Department of Justice, Civil Rights Division, where she was responsible for oversight of the Division's disability rights enforcement and educational civil rights implementation. Her responsibilities included enforcement, regulation, and policy development regarding accessibility requirements for websites and other digital technology; Olmstead community integration requirements in employment and education; and disability rights in education, law enforcement, and health care. Tom Sikora has been the Director of Accessibility for workday since October of 2018.  As the firmwide executive for Digital Accessibility at JPMorgan Chase Co. he implemented solutions for compliance under the Americans with Disabilities Act (ADA).  A graduate of Ohio University with over 25 years of progressive experience in roles spanning technology, operations and regulatory compliance within the financial services industry Tom is a versatile leader and innovative problem solver. *The Ethel Louise Armstrong Lecture and student poster reception will be free and open to the public thanks to the generosity of the Ethel Louise Armstrong Foundation Endowment Fund and the support of the Center for Ethics and Human Values  
Blackwell Inn and PFHAL Conference Center
OSU ASC Drupal 8
ascwebservices@osu.edu
America/New_York
public
Date Range
Add to Calendar
2019-04-09 15:15:00
2019-04-09 17:00:00
Broadening Our Digital World: Balancing Inclusion and Innovation
Whether at school, work, or play we are spending time in the digital world. Websites, apps, and social media have become an integral part of our culture. Nevertheless, for people with disabilities, it can be difficult, sometimes impossible, to obtain independent, timely, and seamless access to this digital world. What would it take to improve access for those who are currently excluded?  Universal Design offers a set of principles for equity but not a blueprint for building our digital world.  Standards, like the Web Content Accessibility Guidelines (WCAG), provides landmarks but they are neither a map or an operational plan for getting there. • What does access and inclusion mean in the digital world? • Why is access important? • Is there a business case for digital access? • Where do we find the resources for access? • How do we get there? • Who is responsible? Join Eve Hill, Co-Lead for Inclusivity and Tom Sikora, Director of Accessibility at Workday, for a dialogue exploring the meaning and value of digital inclusion as well as the pragmatics of how to move toward that goal. A moderated discussion and audience questions will identify the parameters for a thoughtful, balanced, sustainable approach; describe the commitment and the resources necessary to ensure seamless access; and begin to answer the question, How do we get there? This year's Ethel Louise Armstrong Lecture is part of the 2018-2019 COMPAS series focusing on Technology.  The series hopes to promote sustained reflection on the ethical challenges that unify various projects within Ohio State's Discovery Themes Initiative providing a model of informed and constructive discussion that is too often absent from public discourse and that universities are in a unique position to promote. Presenters Eve Hill, one of the nation's leading disability and civil rights attorneys, co-leads Inclusivity. She previously served as Deputy Assistant Attorney General of the U.S. Department of Justice, Civil Rights Division, where she was responsible for oversight of the Division's disability rights enforcement and educational civil rights implementation. Her responsibilities included enforcement, regulation, and policy development regarding accessibility requirements for websites and other digital technology; Olmstead community integration requirements in employment and education; and disability rights in education, law enforcement, and health care. Tom Sikora has been the Director of Accessibility for workday since October of 2018.  As the firmwide executive for Digital Accessibility at JPMorgan Chase Co. he implemented solutions for compliance under the Americans with Disabilities Act (ADA).  A graduate of Ohio University with over 25 years of progressive experience in roles spanning technology, operations and regulatory compliance within the financial services industry Tom is a versatile leader and innovative problem solver. *The Ethel Louise Armstrong Lecture and student poster reception will be free and open to the public thanks to the generosity of the Ethel Louise Armstrong Foundation Endowment Fund and the support of the Center for Ethics and Human Values  
Blackwell Inn and PFHAL Conference Center
Center for Ethics and Human Values
cehv@osu.edu
America/New_York
public
Description
Whether at school, work, or play we are spending time in the digital world. Websites, apps, and social media have become an integral part of our culture. Nevertheless, for people with disabilities, it can be difficult, sometimes impossible, to obtain independent, timely, and seamless access to this digital world. What would it take to improve access for those who are currently excluded? 
Universal Design offers a set of principles for equity but not a blueprint for building our digital world.  Standards, like the Web Content Accessibility Guidelines (WCAG), provides landmarks but they are neither a map or an operational plan for getting there.
• What does access and inclusion mean in the digital world?
• Why is access important?
• Is there a business case for digital access?
• Where do we find the resources for access?
• How do we get there?
• Who is responsible?
Join Eve Hill, Co-Lead for Inclusivity and Tom Sikora, Director of Accessibility at Workday, for a dialogue exploring the meaning and value of digital inclusion as well as the pragmatics of how to move toward that goal.
A moderated discussion and audience questions will identify the parameters for a thoughtful, balanced, sustainable approach; describe the commitment and the resources necessary to ensure seamless access; and begin to answer the question, How do we get there?
This year's Ethel Louise Armstrong Lecture is part of the 2018-2019 COMPAS series focusing on Technology.  The series hopes to promote sustained reflection on the ethical challenges that unify various projects within Ohio State's Discovery Themes Initiative providing a model of informed and constructive discussion that is too often absent from public discourse and that universities are in a unique position to promote.
Presenters
Eve Hill, one of the nation's leading disability and civil rights attorneys, co-leads Inclusivity. She previously served as Deputy Assistant Attorney General of the U.S. Department of Justice, Civil Rights Division, where she was responsible for oversight of the Division's disability rights enforcement and educational civil rights implementation. Her responsibilities included enforcement, regulation, and policy development regarding accessibility requirements for websites and other digital technology; Olmstead community integration requirements in employment and education; and disability rights in education, law enforcement, and health care.
Tom Sikora has been the Director of Accessibility for workday since October of 2018.  As the firmwide executive for Digital Accessibility at JPMorgan Chase Co. he implemented solutions for compliance under the Americans with Disabilities Act (ADA).  A graduate of Ohio University with over 25 years of progressive experience in roles spanning technology, operations and regulatory compliance within the financial services industry Tom is a versatile leader and innovative problem solver.

*The Ethel Louise Armstrong Lecture and student poster reception will be free and open to the public thanks to the generosity of the Ethel Louise Armstrong Foundation Endowment Fund and the support of the Center for Ethics and Human Values
 
Events Filters:
---