Image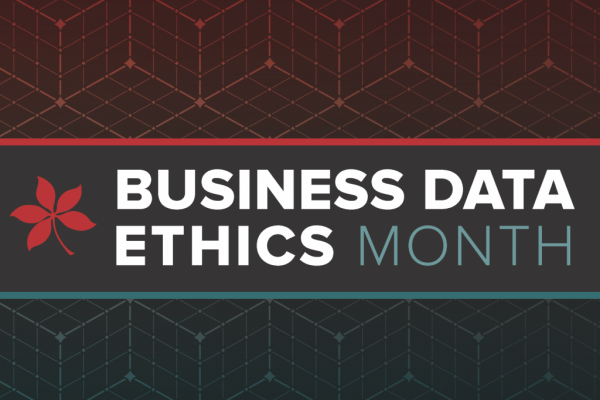 October 2 - October 29, 2020
12:00PM - 1:00PM
Date Range
Add to Calendar
2020-10-02 12:00:00
2020-10-29 13:00:00
Business Data Ethics Month
A series of panels in October highlights the research of an interdisciplinary Ohio State team that includes CEHV Director Piers Turner. The series is hosted by the Program on Data and Governance, directed by Prof. Dennis Hirsch, who is also the study's principal investigator. The first session on October 2 features a keynote from US Senator Chris Coons and a review of key findings by research team. Subsequent panels bring in external experts to continue the discussion on ethical frameworks, risks and motivations, management approaches and technological solutions.  CLICK HERE TO REGISTER Research team members include: Dennis Hirsch | Faculty Director, Program on Data and Governance, Moritz College of Law, The Ohio State University Tim Bartley | Professor of Sociology, Washington University in St. Louis Aravind Chandrasekaran | Associate Dean for Executive Education, Professor of Operations, Fisher College of Business, The Ohio State University Davon Norris | Sociology PhD Candidate, The Ohio State University Srinivasan Parthasarathy | Director, Data Mining Research Laboratory; Professor, Computer Science and Engineering, The Ohio State University Piers Turner | Director, Center for Ethics and Human Values; Associate Professor, Department of Philosophy, The Ohio State University   Video Recordings   First Session (Oct 2): "Emerging Trends in Corporate Data Ethics: Research Findings"   Second Session (Oct 8): "Substantive Data Ethics: Frameworks & Policies" Moderated by CEHV Director Piers Turner
Virtual Series
OSU ASC Drupal 8
ascwebservices@osu.edu
America/New_York
public
Date Range
Add to Calendar
2020-10-02 12:00:00
2020-10-29 13:00:00
Business Data Ethics Month
A series of panels in October highlights the research of an interdisciplinary Ohio State team that includes CEHV Director Piers Turner. The series is hosted by the Program on Data and Governance, directed by Prof. Dennis Hirsch, who is also the study's principal investigator. The first session on October 2 features a keynote from US Senator Chris Coons and a review of key findings by research team. Subsequent panels bring in external experts to continue the discussion on ethical frameworks, risks and motivations, management approaches and technological solutions.  CLICK HERE TO REGISTER Research team members include: Dennis Hirsch | Faculty Director, Program on Data and Governance, Moritz College of Law, The Ohio State University Tim Bartley | Professor of Sociology, Washington University in St. Louis Aravind Chandrasekaran | Associate Dean for Executive Education, Professor of Operations, Fisher College of Business, The Ohio State University Davon Norris | Sociology PhD Candidate, The Ohio State University Srinivasan Parthasarathy | Director, Data Mining Research Laboratory; Professor, Computer Science and Engineering, The Ohio State University Piers Turner | Director, Center for Ethics and Human Values; Associate Professor, Department of Philosophy, The Ohio State University   Video Recordings   First Session (Oct 2): "Emerging Trends in Corporate Data Ethics: Research Findings"   Second Session (Oct 8): "Substantive Data Ethics: Frameworks & Policies" Moderated by CEHV Director Piers Turner
Virtual Series
Center for Ethics and Human Values
cehv@osu.edu
America/New_York
public
Description
A series of panels in October highlights the research of an interdisciplinary Ohio State team that includes CEHV Director Piers Turner.
The series is hosted by the Program on Data and Governance, directed by Prof. Dennis Hirsch, who is also the study's principal investigator.
The first session on October 2 features a keynote from US Senator Chris Coons and a review of key findings by research team. Subsequent panels bring in external experts to continue the discussion on ethical frameworks, risks and motivations, management approaches and technological solutions. 
Research team members include:
Dennis Hirsch | Faculty Director, Program on Data and Governance, Moritz College of Law, The Ohio State University
Tim Bartley | Professor of Sociology, Washington University in St. Louis
Aravind Chandrasekaran | Associate Dean for Executive Education, Professor of Operations, Fisher College of Business, The Ohio State University
Davon Norris | Sociology PhD Candidate, The Ohio State University
Srinivasan Parthasarathy | Director, Data Mining Research Laboratory; Professor, Computer Science and Engineering, The Ohio State University
Piers Turner | Director, Center for Ethics and Human Values; Associate Professor, Department of Philosophy, The Ohio State University
Video Recordings
First Session (Oct 2): "Emerging Trends in Corporate Data Ethics: Research Findings"
Second Session (Oct 8): "Substantive Data Ethics: Frameworks & Policies"
Moderated by CEHV Director Piers Turner
Events Filters:
---