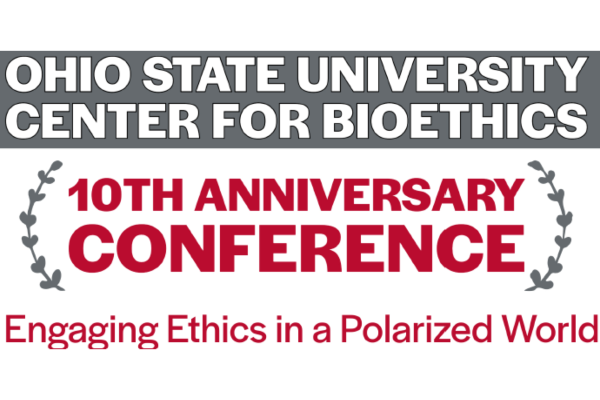 September 21, 2023
7:00AM - 4:30PM
Davis Heart and Lung Research Institute 170
Add to Calendar
2023-09-21 07:00:00
2023-09-21 16:30:00
Campus Event: OSU Center for Bioethics hosts 10th Anniversary Conference
Bioethics One Day Conference: Engaging Ethics in a Polarized World   Full conference schedule HERE. Registration is free. What does it mean to engage bioethics in an increasingly polarized world? How do we navigate interdisciplinary, pluralism, controversy, and uncertainty as we seek to understand and engage deep questions about life? As we look back on 10 years of OSU Bioethics and forward to the future, we invite you to join us in conversation and learn about the work our faculty, alumni, and colleagues are doing in this sphere. Keynote Speakers Hagop S. Mekhjian, MD Institutional Grand Rounds in Medical Ethics and Professionalism "On Moral Strength" DHLRI 170 Christine Grady, MSN, PhDChief of the Department of BioethicsNational Institutes of Health Clinical Center Bio Christine Grady is a nurse-bioethicist and a senior investigator who currently serves as the Chief of the Department of Bioethics at the National Institutes of Health Clinical Center. Dr. Grady has authored more than 175 papers in the biomedical and bioethics literature and authored or edited several books, including The Oxford Textbook of Clinical Research Ethics. She served from 2010-2017 as a Commissioner on the President's Commission for the Study of Bioethical Issues. Her work is known internationally, and she has lectured widely on ethical issues in clinical research and clinical care, HIV disease, and nursing. She is an elected fellow of the Hastings Center and of the American Academy of Nursing, a senior research fellow at the Kennedy Institute of Ethics and an elected member of the National Academy of Medicine. She holds a B.S. in nursing and biology from Georgetown University, a M.S.N. in community health nursing from Boston College, and a Ph.D. in philosophy from Georgetown University. She has participated in numerous intergovernmental task forces and is the recipient of several awards, including the NIH CEO Award in 2017, and the NIH Director's Award in 2015 and 2017. View Dr. Grady's complete profile at https://irp.nih.gov/pi/christine-grady   Larry R. Churchill, Ph.D. photo: Anne Rayner; VU Chauncey D. Leake and Elizabeth W. Leake Lecture in Medical Ethics and Humanities in the Health Professions "Fundamental Healing and Ethical Skills for Healthcare Professionals" DHLRI 170 Larry R. Churchill, PhDEmeritus Professor of Medical EthicsVanderbilt University
Davis Heart and Lung Research Institute 170
OSU ASC Drupal 8
ascwebservices@osu.edu
America/New_York
public
Date Range
Add to Calendar
2023-09-21 07:00:00
2023-09-21 16:30:00
Campus Event: OSU Center for Bioethics hosts 10th Anniversary Conference
Bioethics One Day Conference: Engaging Ethics in a Polarized World   Full conference schedule HERE. Registration is free. What does it mean to engage bioethics in an increasingly polarized world? How do we navigate interdisciplinary, pluralism, controversy, and uncertainty as we seek to understand and engage deep questions about life? As we look back on 10 years of OSU Bioethics and forward to the future, we invite you to join us in conversation and learn about the work our faculty, alumni, and colleagues are doing in this sphere. Keynote Speakers Hagop S. Mekhjian, MD Institutional Grand Rounds in Medical Ethics and Professionalism "On Moral Strength" DHLRI 170 Christine Grady, MSN, PhD Chief of the Department of Bioethics National Institutes of Health Clinical Center Bio Christine Grady is a nurse-bioethicist and a senior investigator who currently serves as the Chief of the Department of Bioethics at the National Institutes of Health Clinical Center. Dr. Grady has authored more than 175 papers in the biomedical and bioethics literature and authored or edited several books, including The Oxford Textbook of Clinical Research Ethics. She served from 2010-2017 as a Commissioner on the President's Commission for the Study of Bioethical Issues. Her work is known internationally, and she has lectured widely on ethical issues in clinical research and clinical care, HIV disease, and nursing. She is an elected fellow of the Hastings Center and of the American Academy of Nursing, a senior research fellow at the Kennedy Institute of Ethics and an elected member of the National Academy of Medicine. She holds a B.S. in nursing and biology from Georgetown University, a M.S.N. in community health nursing from Boston College, and a Ph.D. in philosophy from Georgetown University. She has participated in numerous intergovernmental task forces and is the recipient of several awards, including the NIH CEO Award in 2017, and the NIH Director's Award in 2015 and 2017. View Dr. Grady's complete profile at https://irp.nih.gov/pi/christine-grady   Larry R. Churchill, Ph.D. photo: Anne Rayner; VU Chauncey D. Leake and Elizabeth W. Leake Lecture in Medical Ethics and Humanities in the Health Professions "Fundamental Healing and Ethical Skills for Healthcare Professionals" DHLRI 170 Larry R. Churchill, PhD Emeritus Professor of Medical Ethics Vanderbilt University
Davis Heart and Lung Research Institute 170
Center for Ethics and Human Values
cehv@osu.edu
America/New_York
public
Bioethics One Day Conference: Engaging Ethics in a Polarized World
 
Full conference schedule HERE.

What does it mean to engage bioethics in an increasingly polarized world? How do we navigate interdisciplinary, pluralism, controversy, and uncertainty as we seek to understand and engage deep questions about life? As we look back on 10 years of OSU Bioethics and forward to the future, we invite you to join us in conversation and learn about the work our faculty, alumni, and colleagues are doing in this sphere.
Keynote Speakers

Hagop S. Mekhjian, MD Institutional Grand Rounds in Medical Ethics and Professionalism
"On Moral Strength"
DHLRI 170
Christine Grady, MSN, PhD
Chief of the Department of Bioethics
National Institutes of Health Clinical Center
Bio
Christine Grady is a nurse-bioethicist and a senior investigator who currently serves as the Chief of the Department of Bioethics at the National Institutes of Health Clinical Center. Dr. Grady has authored more than 175 papers in the biomedical and bioethics literature and authored or edited several books, including The Oxford Textbook of Clinical Research Ethics. She served from 2010-2017 as a Commissioner on the President's Commission for the Study of Bioethical Issues. Her work is known internationally, and she has lectured widely on ethical issues in clinical research and clinical care, HIV disease, and nursing. She is an elected fellow of the Hastings Center and of the American Academy of Nursing, a senior research fellow at the Kennedy Institute of Ethics and an elected member of the National Academy of Medicine. She holds a B.S. in nursing and biology from Georgetown University, a M.S.N. in community health nursing from Boston College, and a Ph.D. in philosophy from Georgetown University.
She has participated in numerous intergovernmental task forces and is the recipient of several awards, including the NIH CEO Award in 2017, and the NIH Director's Award in 2015 and 2017.
View Dr. Grady's complete profile at https://irp.nih.gov/pi/christine-grady
Larry R. Churchill, Ph.D.
photo: Anne Rayner; VU
Chauncey D. Leake and Elizabeth W. Leake Lecture in Medical Ethics and Humanities in the Health Professions
"Fundamental Healing and Ethical Skills for Healthcare Professionals"
DHLRI 170
Larry R. Churchill, PhD
Emeritus Professor of Medical Ethics
Vanderbilt University
Events Filters:
---