Image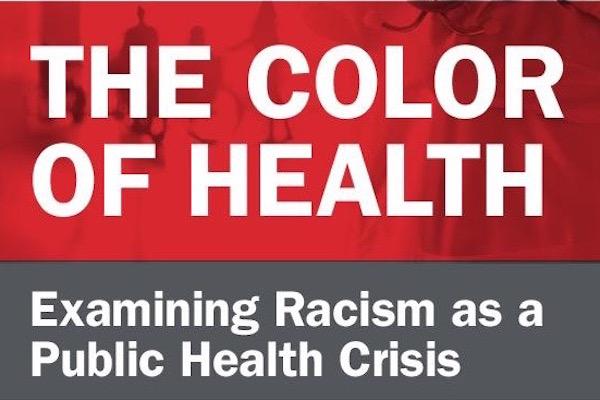 February 24, 2021
12:00PM - 1:00PM
Date Range
Add to Calendar
2021-02-24 13:00:00
2021-02-24 14:00:00
The Color of Health: Examining Racism as a Public Health Crisis (CEHV/Tri-C Collaboration)
In recent months, Ohio Governor Mike DeWine, the Cuyahoga and Franklin County boards of health and numerous others have recognized racism as a public health crisis. Join CEHV and the Jack, Joseph, and Morton Mandel Humanities Center at Cuyahoga Community College (Tri-C) for a panel discussion about public policy, health care access, race and racism in Ohio. This panel is part of an ongoing collaboration between Ohio State and Tri-C to host thoughtful conversations on issues facing our state. Additional event cosponsors are the City Club of Cleveland and the Ray C. Bliss Institute of Applied Politics at the University of Akron. Watch the event Panelists:  Yvonka Marie Hall, MPA (Executive Director, Northeast Ohio Black Health Coalition) J. Nwando Olayiwola, M.D., MPH, FAAFP (Professor and Chair, Department of Family and Community Medicine, The Ohio State University) Sherrie D. Williams, M.D., MHS (Chair, 340B Health Board of Directors; Associate Professor, Case Western Reserve University School of Medicine; Medical Staff, The MetroHealth System) Moderated by: Winston C. Thompson, Ph.D. (Associate Professor, College of Education and Human Ecology; Steering Committee, CEHV, The Ohio State University)
Online
OSU ASC Drupal 8
ascwebservices@osu.edu
America/New_York
public
Date Range
Add to Calendar
2021-02-24 12:00:00
2021-02-24 13:00:00
The Color of Health: Examining Racism as a Public Health Crisis (CEHV/Tri-C Collaboration)
In recent months, Ohio Governor Mike DeWine, the Cuyahoga and Franklin County boards of health and numerous others have recognized racism as a public health crisis. Join CEHV and the Jack, Joseph, and Morton Mandel Humanities Center at Cuyahoga Community College (Tri-C) for a panel discussion about public policy, health care access, race and racism in Ohio. This panel is part of an ongoing collaboration between Ohio State and Tri-C to host thoughtful conversations on issues facing our state. Additional event cosponsors are the City Club of Cleveland and the Ray C. Bliss Institute of Applied Politics at the University of Akron. Watch the event Panelists:  Yvonka Marie Hall, MPA (Executive Director, Northeast Ohio Black Health Coalition) J. Nwando Olayiwola, M.D., MPH, FAAFP (Professor and Chair, Department of Family and Community Medicine, The Ohio State University) Sherrie D. Williams, M.D., MHS (Chair, 340B Health Board of Directors; Associate Professor, Case Western Reserve University School of Medicine; Medical Staff, The MetroHealth System) Moderated by: Winston C. Thompson, Ph.D. (Associate Professor, College of Education and Human Ecology; Steering Committee, CEHV, The Ohio State University)
Online
Center for Ethics and Human Values
cehv@osu.edu
America/New_York
public
Description
In recent months, Ohio Governor Mike DeWine, the Cuyahoga and Franklin County boards of health and numerous others have recognized racism as a public health crisis.
Join CEHV and the Jack, Joseph, and Morton Mandel Humanities Center at Cuyahoga Community College (Tri-C) for a panel discussion about public policy, health care access, race and racism in Ohio. This panel is part of an ongoing collaboration between Ohio State and Tri-C to host thoughtful conversations on issues facing our state.
Additional event cosponsors are the City Club of Cleveland and the Ray C. Bliss Institute of Applied Politics at the University of Akron.
Panelists: 
Yvonka Marie Hall, MPA (Executive Director, Northeast Ohio Black Health Coalition)
J. Nwando Olayiwola, M.D., MPH, FAAFP (Professor and Chair, Department of Family and Community Medicine, The Ohio State University)
Sherrie D. Williams, M.D., MHS (Chair, 340B Health Board of Directors; Associate Professor, Case Western Reserve University School of Medicine; Medical Staff, The MetroHealth System)
Moderated by: Winston C. Thompson, Ph.D. (Associate Professor, College of Education and Human Ecology; Steering Committee, CEHV, The Ohio State University)
Events Filters:
---