Image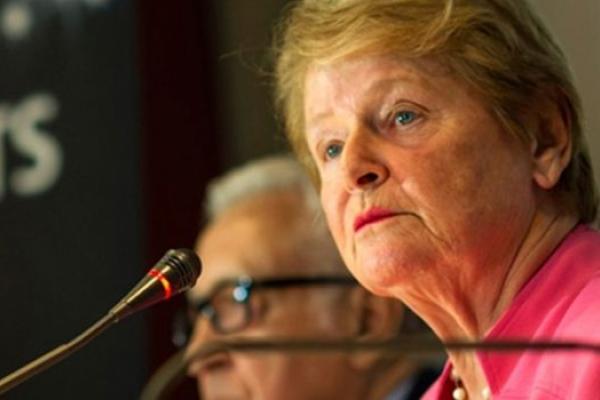 September 28, 2015
All Day
Location
Mershon Auditorium, Wexner Center for the Arts
Description
Dr. Gro Harlem Brundtland has gained international recognition as a leader on key global challenges, the environment, human rights, sustainable development, and global security issues.  She travels and lectures extensively as a leading voice on climate change, for a healthier and better educated world, and a champion of sustainable development.
When employed with the Ministry of Health in Oslo, Dr. Brundtland focused on children's health issues. In 1974 she was asked to serve as Norway's Minister of the Environment focusing on the links between public health and the environment.
During the 1970s, Dr. Brundtland lobbied for women's rights and progressive family policies. At age 41, Dr. Brundtland became the first woman Prime Minister of Norway—and the youngest person ever appointed. Her cabinet of eight women and nine men represented the highest level of gender equality in history as Dr. Brundtland continued to lead her country for more than a decade.
In May 1998, Dr. Brundtland was elected as Director-General of the World Health Organization (WHO). During this time, she intensified the debate on global health as key to economic development, and began programs to curb malaria, tobacco use, tuberculosis, and AIDS, as well as a new focus on chronic diseases, diet, and nutrition.
Dr. Brundtland left WHO in 2003 after succeeding in getting support for the first ever negotiated agreement on a major public health issue: The Tobacco Convention. That same year she was recognized as Scientific American's Policy Leader of the Year for initiating and coordinating a rapid worldwide response to SARS.
In 2007, she became a founding member of the "Elders," a group of 11 leaders called together by Nelson Mandela and chaired by Archbishop Desmond Tutu, who contribute their wisdom, independent leadership, and integrity to tackling the world's toughest problems with the goal of conflict resolution and making the world a better place. She is a member of the Board of the "United Nations Foundation," initiated by Ted Turner and his generous gift of $1 billion to the UN and its causes. She also served as a member of "The Independent Commission on Nuclear Non-Proliferation and Disarmament." In 2010 the UN Secretary General appointed her a member of his "High Level Global Sustainability Panel."
---