Image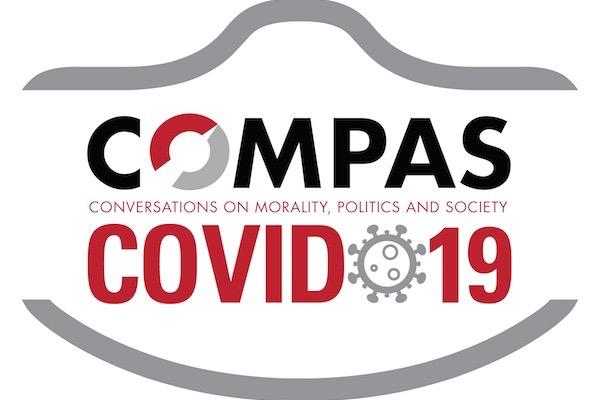 November 13, 2020
1:00PM - 2:00PM
Date Range
Add to Calendar
2020-11-13 14:00:00
2020-11-13 15:00:00
COMPAS panel: Can the Government Really Do That? Democracy and Emergency Powers
The COVID-19 COMPAS Program presents "Can the Government Really Do That? Democracy and Emergency Powers" The response to the COVID-19 pandemic has largely been carried out through executive and administrative orders. Is this an appropriate way to make public policy? Under what circumstances can the use of emergency powers be justified in a democracy? What limits should be placed on those powers, and how should those limits be enforced? This event will be held online via Zoom. All are welcome to attend, but registration is required.     Panelists Elizabeth Goitein (Co-Director, Liberty & National Security Program, Brennan Center for Justice) Elizabeth (Liza) Goitein codirects the Brennan Center for Justice's Liberty & National Security Program. Goitein is the author of the Brennan Center report The New Era of Secret Law and coauthor of the reports Overseas Surveillance in an Interconnected World, What Went Wrong with the FISA Court, and Reducing Overclassification Through Accountability. She is also the author of the chapter "Overclassification: Its Causes and Consequences" in the book An Enduring Tension: Balancing National Security and Our Access to Information and coauthor of the chapter "Lessons From the History of National Security Surveillance" in the 2017 Cambridge Handbook of Surveillance Law. Her writing has been featured in major newspapers including The New York Times, Washington Post, Wall Street Journal, USA Today, and Los Angeles Times, and she has appeared on national television and radio shows including the Rachel Maddow Show, All In with Chris Hayes, PBS NewsHour, and NPR's Morning Edition and All Things Considered. She has testified before the Senate and House Judiciary Committees.   Philip Wallach (Resident Scholar, American Enterprise Institute) Philip Wallach is a resident scholar at the American Enterprise Institute (AEI), where he studies America's separation of powers, with a focus on regulatory policy issues and the relationship between Congress and the administrative state. Before joining AEI, Dr. Wallach was a senior fellow in governance studies at the Brookings Institution, where he authored "To the Edge: Legality, Legitimacy, and the Responses to the 2008 Financial Crisis" (Brookings Institution Press, 2015). He was later affiliated with the R Street Institute and served as a fellow with the House Select Committee on the Modernization of Congress in 2019. Dr. Wallach's scholarly and popular work has been published widely, including in the Brookings Center on Regulation and Markets, Studies in American Political Development, Fortune, National Affairs, National Review, Law & Liberty, the Los Angeles Times, RealClearPolicy, The American Interest, The Bulwark, The Hill, and The Washington Post. A frequent conference participant, he has lectured at William & Mary, the University of Oregon, Northwestern University's Medill School of Journalism, and the University of Michigan, among others. Moderator: Peter Shane (Law, Ohio State University)    
Online
OSU ASC Drupal 8
ascwebservices@osu.edu
America/New_York
public
Date Range
Add to Calendar
2020-11-13 13:00:00
2020-11-13 14:00:00
COMPAS panel: Can the Government Really Do That? Democracy and Emergency Powers
The COVID-19 COMPAS Program presents "Can the Government Really Do That? Democracy and Emergency Powers" The response to the COVID-19 pandemic has largely been carried out through executive and administrative orders. Is this an appropriate way to make public policy? Under what circumstances can the use of emergency powers be justified in a democracy? What limits should be placed on those powers, and how should those limits be enforced? This event will be held online via Zoom. All are welcome to attend, but registration is required.     Panelists Elizabeth Goitein (Co-Director, Liberty & National Security Program, Brennan Center for Justice) Elizabeth (Liza) Goitein codirects the Brennan Center for Justice's Liberty & National Security Program. Goitein is the author of the Brennan Center report The New Era of Secret Law and coauthor of the reports Overseas Surveillance in an Interconnected World, What Went Wrong with the FISA Court, and Reducing Overclassification Through Accountability. She is also the author of the chapter "Overclassification: Its Causes and Consequences" in the book An Enduring Tension: Balancing National Security and Our Access to Information and coauthor of the chapter "Lessons From the History of National Security Surveillance" in the 2017 Cambridge Handbook of Surveillance Law. Her writing has been featured in major newspapers including The New York Times, Washington Post, Wall Street Journal, USA Today, and Los Angeles Times, and she has appeared on national television and radio shows including the Rachel Maddow Show, All In with Chris Hayes, PBS NewsHour, and NPR's Morning Edition and All Things Considered. She has testified before the Senate and House Judiciary Committees.   Philip Wallach (Resident Scholar, American Enterprise Institute) Philip Wallach is a resident scholar at the American Enterprise Institute (AEI), where he studies America's separation of powers, with a focus on regulatory policy issues and the relationship between Congress and the administrative state. Before joining AEI, Dr. Wallach was a senior fellow in governance studies at the Brookings Institution, where he authored "To the Edge: Legality, Legitimacy, and the Responses to the 2008 Financial Crisis" (Brookings Institution Press, 2015). He was later affiliated with the R Street Institute and served as a fellow with the House Select Committee on the Modernization of Congress in 2019. Dr. Wallach's scholarly and popular work has been published widely, including in the Brookings Center on Regulation and Markets, Studies in American Political Development, Fortune, National Affairs, National Review, Law & Liberty, the Los Angeles Times, RealClearPolicy, The American Interest, The Bulwark, The Hill, and The Washington Post. A frequent conference participant, he has lectured at William & Mary, the University of Oregon, Northwestern University's Medill School of Journalism, and the University of Michigan, among others. Moderator: Peter Shane (Law, Ohio State University)    
Online
Center for Ethics and Human Values
cehv@osu.edu
America/New_York
public
Description
The COVID-19 COMPAS Program presents "Can the Government Really Do That? Democracy and Emergency Powers"
The response to the COVID-19 pandemic has largely been carried out through executive and administrative orders. Is this an appropriate way to make public policy? Under what circumstances can the use of emergency powers be justified in a democracy? What limits should be placed on those powers, and how should those limits be enforced?
This event will be held online via Zoom. All are welcome to attend, but registration is required.
Panelists
Elizabeth Goitein (Co-Director, Liberty & National Security Program, Brennan Center for Justice)
Elizabeth (Liza) Goitein codirects the Brennan Center for Justice's Liberty & National Security Program. Goitein is the author of the Brennan Center report The New Era of Secret Law and coauthor of the reports Overseas Surveillance in an Interconnected World, What Went Wrong with the FISA Court, and Reducing Overclassification Through Accountability. She is also the author of the chapter "Overclassification: Its Causes and Consequences" in the book An Enduring Tension: Balancing National Security and Our Access to Information and coauthor of the chapter "Lessons From the History of National Security Surveillance" in the 2017 Cambridge Handbook of Surveillance Law.
Her writing has been featured in major newspapers including The New York Times, Washington Post, Wall Street Journal, USA Today, and Los Angeles Times, and she has appeared on national television and radio shows including the Rachel Maddow Show, All In with Chris Hayes, PBS NewsHour, and NPR's Morning Edition and All Things Considered. She has testified before the Senate and House Judiciary Committees.
Philip Wallach (Resident Scholar, American Enterprise Institute)
Philip Wallach is a resident scholar at the American Enterprise Institute (AEI), where he studies America's separation of powers, with a focus on regulatory policy issues and the relationship between Congress and the administrative state. Before joining AEI, Dr. Wallach was a senior fellow in governance studies at the Brookings Institution, where he authored "To the Edge: Legality, Legitimacy, and the Responses to the 2008 Financial Crisis" (Brookings Institution Press, 2015). He was later affiliated with the R Street Institute and served as a fellow with the House Select Committee on the Modernization of Congress in 2019.
Dr. Wallach's scholarly and popular work has been published widely, including in the Brookings Center on Regulation and Markets, Studies in American Political Development, Fortune, National Affairs, National Review, Law & Liberty, the Los Angeles Times, RealClearPolicy, The American Interest, The Bulwark, The Hill, and The Washington Post. A frequent conference participant, he has lectured at William & Mary, the University of Oregon, Northwestern University's Medill School of Journalism, and the University of Michigan, among others.
Moderator: Peter Shane (Law, Ohio State University)
Events Filters:
---