Image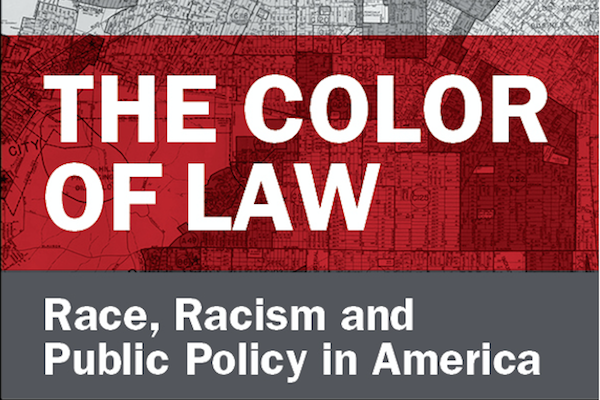 November 20, 2020
11:00AM - 12:20PM
Date Range
Add to Calendar
2020-11-20 12:00:00
2020-11-20 13:20:00
Richard Rothstein, "The Color of Law: Race, Racism and Public Policy in America" (cohosted with the Mandel Humanities Center at Cuyahoga Community College)
A new partnership between the Jack, Joseph and Morton Mandel Humanities Center at Cuyahoga Community College and the Ohio State Center for Ethics and Human Values kicks off with a presentation by historian and best-selling author Richard Rothstein, author of the widely celebrated book The Color of Law: A Forgotten History of How our Government Segregated America. Rothstein is a distinguished fellow of the Economic Policy Institute, a fellow of the Thurgood Marshall Institute of the NAACP Legal Defense Fund and of the Haas Institute for a Fair and Inclusive Society at the University of California, Berkeley. The Color of Law expands upon and provides a national perspective on his recent work that has documented the history of state-sponsored residential segregation, as in his report, The Making of Ferguson. In this free public presentation, Rothstein will discuss the ways in which government policies, well into the 20th Century, created and reinforced racial segregation in America. Following his presentation, Rothstein will answer selected questions from the audience. Other cohosts of the virtual event include the Ray C. Bliss Institute of Applied Politics at the University of Akron and the City Club of Cleveland. See the Video Here  
Online
OSU ASC Drupal 8
ascwebservices@osu.edu
America/New_York
public
Date Range
Add to Calendar
2020-11-20 11:00:00
2020-11-20 12:20:00
Richard Rothstein, "The Color of Law: Race, Racism and Public Policy in America" (cohosted with the Mandel Humanities Center at Cuyahoga Community College)
A new partnership between the Jack, Joseph and Morton Mandel Humanities Center at Cuyahoga Community College and the Ohio State Center for Ethics and Human Values kicks off with a presentation by historian and best-selling author Richard Rothstein, author of the widely celebrated book The Color of Law: A Forgotten History of How our Government Segregated America. Rothstein is a distinguished fellow of the Economic Policy Institute, a fellow of the Thurgood Marshall Institute of the NAACP Legal Defense Fund and of the Haas Institute for a Fair and Inclusive Society at the University of California, Berkeley. The Color of Law expands upon and provides a national perspective on his recent work that has documented the history of state-sponsored residential segregation, as in his report, The Making of Ferguson. In this free public presentation, Rothstein will discuss the ways in which government policies, well into the 20th Century, created and reinforced racial segregation in America. Following his presentation, Rothstein will answer selected questions from the audience. Other cohosts of the virtual event include the Ray C. Bliss Institute of Applied Politics at the University of Akron and the City Club of Cleveland. See the Video Here  
Online
Center for Ethics and Human Values
cehv@osu.edu
America/New_York
public
Description
A new partnership between the Jack, Joseph and Morton Mandel Humanities Center at Cuyahoga Community College and the Ohio State Center for Ethics and Human Values kicks off with a presentation by historian and best-selling author Richard Rothstein, author of the widely celebrated book The Color of Law: A Forgotten History of How our Government Segregated America.
Rothstein is a distinguished fellow of the Economic Policy Institute, a fellow of the Thurgood Marshall Institute of the NAACP Legal Defense Fund and of the Haas Institute for a Fair and Inclusive Society at the University of California, Berkeley.
The Color of Law expands upon and provides a national perspective on his recent work that has documented the history of state-sponsored residential segregation, as in his report, The Making of Ferguson.
In this free public presentation, Rothstein will discuss the ways in which government policies, well into the 20th Century, created and reinforced racial segregation in America. Following his presentation, Rothstein will answer selected questions from the audience.
Other cohosts of the virtual event include the Ray C. Bliss Institute of Applied Politics at the University of Akron and the City Club of Cleveland.
Events Filters:
---