January 12, 2020
Announcing Inaugural Class of Ethics Circle Fellows
Image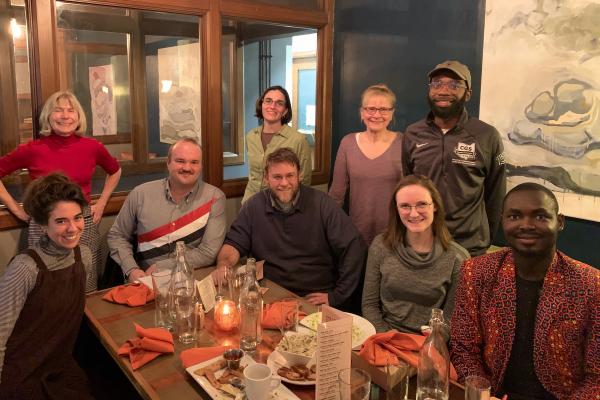 Description
The Center for Ethics and Human Values is delighted to announce our 2020 Ethics Circle Fellows. Nine fellows were selected out of a pool of forty-five applicants from twelve colleges at Ohio State. 
 
Over the course of the spring semester each fellow will each pursue an ethics-related project in their area of interest, under the mentorship of CEHV ethicists and in community with other participants. Fellows working to enhance their teaching become eligible for a "Teaching Ethics and Human Values" endorsement from the University Institute for Teaching and Learning.
 
We are grateful for the many excellent submissions for the program and encourage applicants to reapply next year. For more information about Ethics Circle, please visit: https://cehv.osu.edu/ethics-circle
Ethics Circle Fellows
Elizabeth Fitzgerald
Associate Professor of Clinical Nursing
College of Nursing
Project: Moral Courage and Moral Distress When Encountering Ethical Dilemmas in Free Health Care Clinics serving Immigrants and Refugees
 
According to the United Nations, an increase in the global number of international migrants continues to outpace the growth of the world's population (United Nations, 2019). The number of international migrants globally reached an estimated 272 million in 2019, reflecting an increase of 51 million since 2010. Prof. Fitzgerald's project will examine ethical considerations when rendering nursing care to migrants in free clinics.
Rebecca Garabed
Associate Professor of Veterinary Preventive Medicine
College of Veterinary Medicine 
 
Project: Technology-Assisted Veterinary Practice: Identifying and Teaching Ethical Practices Associated with Emerging Diagnostic Technologies
 
Rebecca Garabed is a veterinarian (VMD) and epidemiologist (PhD) specializing in applications of statistics in veterinary medicine.  She is an Associate Professor in the Department of Veterinary Preventive Medicine and Co-Director of the Graduate Interdisciplinary Specialization in Quantitative Research Methods.  As part of a team in the College of Veterinary Medicine, she will be developing curricula for professional students and practicing professionals to understand the ethical issues and improve policies around emerging diagnostic technologies (machine learning, deep genetic sequencing, and telemedicine, for example) in veterinary clinical practice.
Deborah Grzybowski 
Associate Professor of Practice
Department of Engineering Education
College of Engineering
Project: Developing Instructional Materials on the Ethics of Esports and Game Design
Dr. Deborah Grzybowski is an Associate Professor of Practice in the Department of Engineering
Education at The Ohio State University. Deb is Co-Director of the curriculum development of the Esports and Game Studies undergraduate major. This major is a collaboration of 5 colleges including Arts & Sciences, Education and Human Ecology, Engineering, Fisher College of Business, and Medicine. The comprehensive major will provide students to fill roles in industry ranging from game design and creation, production of gaming events including streaming and broadcasting, and coaching,
rehabilitation, and training of esports athletes. Deb has been the Advisor of the Buckeye Gaming
Collective (formerly Esports Initiative) student organization since its creation in 2011.
Her engineering education research focuses on making engineering accessible to all students, including under-represented and under-resourced students, through the use of art-infused curriculum and 3-D models. Her role has given her many opportunities to develop curriculum both for K-12 and for higher education, including bio-engineering curriculum and associated models for the State School for the Blind. She holds degrees in Chemical and Biomolecular Engineering (B.S. & M.S.) and a Ph.D. in Biomedical Engineering.
The aim of her project is to infuse ethics into the curriculum of the new Esports and Game Studies
undergraduate major.
 DaVonti' Haynes
PhD Student, Agricultural Communication, Education, and Leadership
College of Food, Agricultural, and Environmental Sciences
 
Project: Pathways: Teaching High School Students About Ethics and Ethical Behavior
 
DaVonti' Haynes is a doctoral student in the Department of Agricultural Communication, Education, and Leadership program in the College of Food, Agricultural, and Environmental Sciences. He earned his bachelor's and master's degrees from OSU from the John Glenn College of Public Affairs and the College of Social Work. His research interest includes collegiate access for urban and Appalachian populations, successful transition mechanisms, retention, and programming for students from high school to college. His project will focus on teaching ethics to high school students within urban and Appalachian Ohio communities.
Sam Malloy
Researcher, Battelle Center for Science, Engineering, and Public Policy
John Glenn College of Public Affairs
 
Project: A campus-wide book and film salon on the societal impact of emerging technologies
 
As a staff member of Ohio State's Battelle Center, Sam leads an applied research and development portfolio focused on supporting decision-makers with predictive modeling and data visualization tools. Sam serves as an instructor for the graduate-level Innovation for Impact course, and leads The Salon, a campus-wide book and film series that examines the ways in which the scientific enterprise shapes, and is shaped by, political, economic, and social systems. For his Ethics Circle fellowship, Sam will work on expanding and evaluating The Salon, with a long-term goal of developing a Massive Online Open Course (MOOC) that can be used as an introduction to science policy at high schools, community colleges, and universities.
Bethany Martens
PhD Student, Department of Teaching and Learning
College of Education and Human Ecology
 
Project: Effects of Fostering Young Learners' Engagement with Ethics in a Multilingual & Multicultural Preschool Environment

Bethany Martens is a Graduate Teaching Assistant and PhD student of Teaching and Learning: Foreign, Second, and Multilingual Education. She plans to conduct her Ethics Circle project in a classroom that emphasizes both English language learning and school readiness to pre-school aged children from a variety of cultural and linguistic backgrounds. She plans to use the Teaching Ethics and Human Values Endorsement to create lessons, design curriculum, and improve instruction in ways that encourage young learners to critically engage with ethical discussions and activities in context.  
Sean McClure
Program Coordinator – International Students
Residence Life, Office of Student Life
 
Project: Developing dialogue hosting guide for Residence Life Programs Staff
 
Sean McClure is the Residential International Students Program Coordinator for Residence Life Department within the Office of Student Life. He oversees all international students who live on campus and holds programming to support their adjustments to Ohio State University. In his project, he will develop a facilitator's guide to use for Professional and Paraprofessional staff in hosting and conducting dialogues on campus through the intercultural praxis lens.
Kayode Odumboni
PhD student, Department of English
College of Arts and Sciences
 
Project: Designing a Course Syllabus on Immigrant and Refugee Experiences
 
Kayode Odumboni is a first-year PhD student in the Department of English at The Ohio State University. His project is centered on the ethics of teaching and talking about immigration. He is passionate about acquiring pedagogical skills that will equip him to effectively teach, and frame conversations, about immigrants and refugees from a standpoint of ethical consciousness. Amongst other questions, he is interested in ways of re-orienting immigration discourses in a way that takes into account the contexts of historical processes and global justice.
Leticia Wiggins
Multimedia Producer
WOSU Public Media
 
Project: Podcasting Ethically - How to Benefit the Interviewee
 
Leticia Wiggins is constantly seeking innovative ways to engage the public in conversations on the connections between race, gender, and class. As a historian who's made her way into public media, she's excited for the potential to explore these connections through accessible and innovative platforms. She is especially interested in assessing how audio editing both represents and misrepresents oral histories and autobiographical stories.
Advanced
---