March 3, 2022
CEHV Announces Inaugural Cohort of Civil Discourse Fellows
Image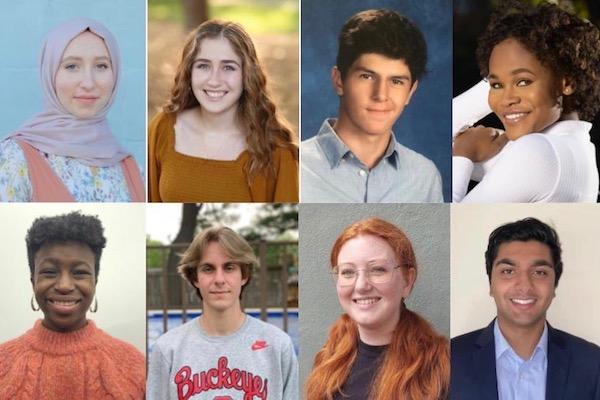 Description
The Center for Ethics and Human Values is happy to announce our inaugural cohort of Civil Discourse Fellows.
CEHV has developed a campus-wide Civil Discourse Initiative, launching this semester, with the aim of promoting constructive and respectful engagement across lines of political disagreement. As part of this new initiative, we have selected eight undergraduate students as our first cohort of CEHV Civil Discourse Fellows.
Following a series of training sessions, the Fellows will serve as moderators for two public events in our 2021-22 COMPAS Program that feature guest speakers who hold opposing views on a controversial political issue: Should Open Societies Have Open Borders? (Friday, April 1) and Can Markets Be Immoral? (Friday, April 8). Together, the Fellows will also plan two further events for autumn 2022 on topics of their choosing, to continue the series of student-moderated discussions.
 
Spring Semester 2022 Civil Discourse Fellows
Salma Albezreh
Salma is a second-year Public Health major in Ohio State's Honors Program. She is also an Eminence Fellow, member of the Eminence Student Advisory Council, Editorial Assistant for the Journal for the Scientific Study of Religion, Dayton International Peace Museum Board Member, and Harvard Medical School Research Assistant. 
Andres Berrios-Perez
Andres is a third-year Political Science major. He is a Law and Society Scholar and Morrill Scholar, and is currently working as an analyst for innovation at OnRamp, a project for students by the Fisher College of Business. Andres is also a student engagement specialist, connecting with Ohio State alumni and raising funds for the university. Additionally, he recently attended a conference on Hispanic politics in Washington DC organized by the American Enterprise Institute. Andres is a recipient of the Morrill Excellence Scholarship and has been named to the Dean's List each semester at Ohio State.
Morgan Gibbs
Morgan is a senior double major in Public Policy and Journalism in the University Honors Program. She is a Fellow in the 2023 Cohort of the Buckeye Leadership Fellows Program, Chief Outreach Officer of Best Food Forward, Senior Reporter for The Lantern, and Team Member for BuckeyeThon. She is a recipient of a Maximus Scholarship and the 2021 George J. Kienzle Memorial Scholarship from the School of Communication, and has been named to the Dean's List five times.
Kendal Harris
Kendal is a second-year major in Public Management, Leadership, and Policy. She is a member of the Morrill Scholars Program of the Office of Diversity and Inclusion. Kendal is also a member of the university's Equestrian Team and an avid writer, publishing her debut novel in 2020.
Madison Meixner
Madison is a third-year Political Science major, with a double minor in Biology and Spanish. Madison is a Morrill Scholar and an International Affairs Scholar. She serves as an RA and as the Social Chair for International Affairs, and participates in Ohio State's Spanish and Portuguese Club, CCOSU (a club that works in tandem with Community Immigration & Refugee Services), Phi Alpha Delta Law Fraternity and Women's Rugby Club.
Corinne Miller
Corinne is a third-year major in Public Policy Analysis in the Honors Program, minoring in Statistics. She is a member of the Law and Society Scholars. Additionally, she serves as an editor for the Journal of Political and International Affairs, where she reviews undergraduate research, and works with visiting exchange students as a member of Ohio State's Exchange Partner Program.
Jacob Scheinblum
Jacob is a second-year major in Philosophy, Politics and Economics (PPE) and Chinese in the university's Honors Program. He is President and Secretary of the OSU PPE Society and is a member of the Philosophy Club. Before coming to Ohio State, he joined the North American Vexillological Association and founded the Political Discourse Club, where he ran a school-wide campaign on the importance of civil discourse surrounding the 2020 presidential election. Jacob has been named to the university's Dean's List.
Adarsh Subramanian
Adarsh graduated from Ohio State in 2022 with a major in Finance and Economics. He was a member of the Integrated Business and Engineering Honors Program and Buckeye Capital Investors. He now works in technology investment banking in San Francisco.
---