April 3, 2021
CEHV hosts first Shared Values Initiative "Community Conversation"
Image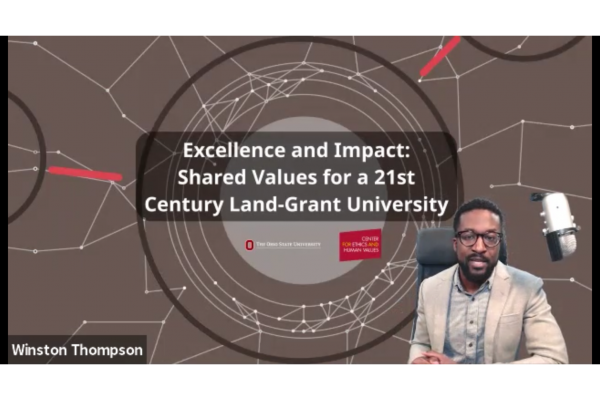 Description
On March 31, Ohio State's Shared Values Initiative inaugurated its "community conversations" series, encouraging reflection on the values that shape life and work at the university. 
The conversation focused on "Excellence and Impact: Shared Values for a 21st Century Land-Grant University," and featured Harry Brighouse (University of Wisconsin-Madison) and Winston Thompson (The Ohio State University).
They discussed a wide range of challenges facing public universities including tradeoffs among important competing values. 
"Data can't drive decisions," Brighouse said. "They are really important because they help you know what the effects of your decisions are going to be. But they don't tell you what matters." 
Using the analogy of a map, he continued: "If I give you a map, the map doesn't tell you where to go. The map [if it has enough detail, and you've learned how to interpret it] tells you how to get where you want to go once you have figured out where that is. It helps you get there, but in itself it's just a map. That's the mistake about thinking that data will drive your decision making. It's like thinking that a map will tell you where you want to go. It just doesn't."
The conversation was hosted by the Ohio State Center for Ethics and Human Values. The full video is below.
Harry Brighouse is Mildred Fish-Harnack Professor of Philosophy of Education, Professor of Philosophy, Carol Dickson-Bascom Professor of the Humanities, and Director of the Center for Ethics and Education. He has recently co-authored Educational Goods (Chicago, 2018) about how educational decision-makers can integrate considerations of value with empirical evidence, and co-edited the collection The Aims of Higher Education: Problems of Morality and Justice (Chicago, 2015).
Winston Thompsonis an Associate Professor in the Department of Educational Studies, College of Education and Human Ecology, and (by courtesy) in the Department of Philosophy, College of Arts and Sciences. He is also a member of the steering committee of the Center for Ethics and Human Values. 
---