February 19, 2022
New CEHV Undergraduate Course on Civil Discourse
Image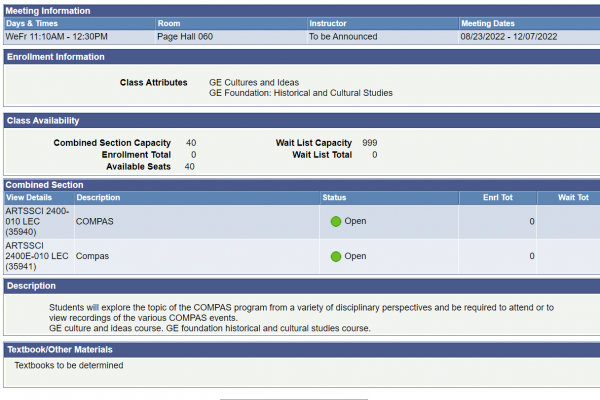 Description
CEHV has introduced a newly-designed course called Conversations on Morality, Politics, and Society (ARTSSCI 2400/2400E) – the "COMPAS course" for short. 
Starting in Autumn 2022, the course provides students with tools for constructive communication at a time when discussion of controversial issues is becoming increasingly difficult in our society. Developed by OSU's Center for Ethics and Human Values (CEHV) as part of its Civil Discourse Initiative, the course has three aims:
To explore the importance of civil discourse and the role of free discussion in our democracy
 
To introduce students to a set of civil discourse principles anchored in the "Four Cs" (Be Curious, Charitable, Conscientious, and Constructive)
 
To engage with events and speakers in CEHV's Conversations on Morality, Politics, and Society(COMPAS) program, which seeks to promote informed and reasoned discussion of controversial social and political issues. Next year's COMPAS theme is Education in our Democracy
For majors in the Philosophy, Politics, and Economics (PPE) major, this course counts as a "concentration" course.
COURSE DETAILS FOR AUTUMN 2022
ARTSSCI 2400 / ARTSSCI 2400E (Honors embedded section)
Wednesday/Friday 11:10AM – 12:30PM
Page Hall 060
For more information please contact Piers Turner
---