March 1, 2023
CEHV's Civil Discourse Fellows Recognized by University
Image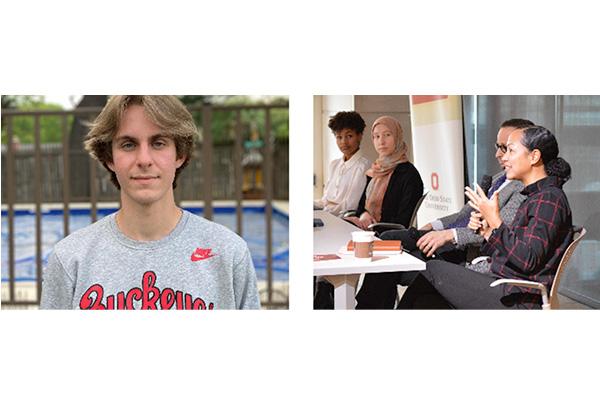 Description
CEHV is very pleased to share that the important work of our Civil Discourse Fellows has been recognized by President Kristina Johnson and by the the Office of Academic Affairs.
In her report to the Board of Trustees in late February, President Johnson observed:
"[D]istinguished faculty and leaders provide inspiring examples to our students, who are of course eager to make an impact of their own. Among those students are eight undergraduates selected by our Center for Ethics and Human Values for the 2023 cohort of Civil Discourse Fellows. Under the leadership of Director Piers Norris Turner, the fellows will help plan and moderate Civil Discourse Forums on campus and serve as ambassadors for constructive dialogue throughout the year."
And in a recent article, the Office of Academic Affairs thoughtfully profiled three of our fellows: Jacob Scheinblum, Salma Albezreh, and Kendal Harris. We are grateful to Suzanne Bressoud for taking the time to meet with our students and learn about the valuable work they are doing on campus. From the article:
"It's important for Ohio State to host a program like the Civil Discourse Fellows," concluded Scheinblum, "both to provide a forum to discuss some of the most important issues of our times and to demonstrate the etiquette of civil discourse. I believe that this kind of program can have a huge impact on the audience, Fellows and speakers in developing the tools necessary to facilitate productive dialogue. The real challenge is taking those tools beyond the events and applying them in everyday life."
---
CEHV's "Civil Discourse for Citizenship" program is led by Eric MacGilvray, Emma Saunders-Hastings, Piers Turner, and Aaron Yarmel. It is pursued with generous support from the Derrow Family Foundation and in partnership with the Provost's Civil Discourse Project.
---